WENSLEYDALE CREAMERY MATURE CHEDDAR WITH BLACK SHEEP RIGGWELTER ALE LAUNCHES IN WAITROSE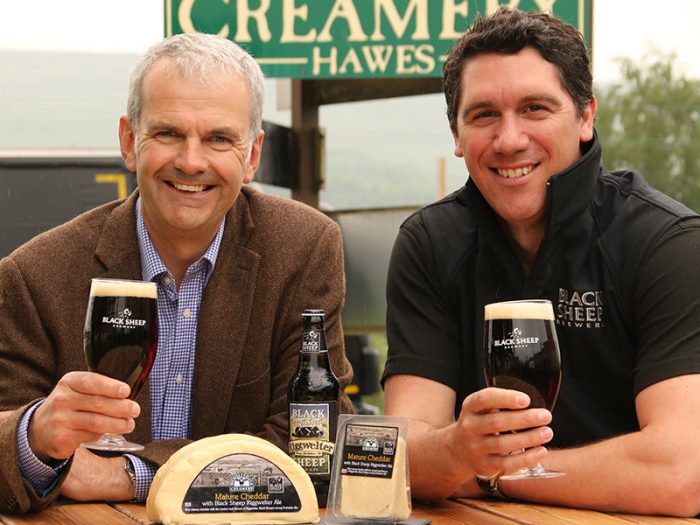 We've teamed up with The Wensleydale Creamery to produce a Mature Cheddar with Black Sheep Riggwelter Ale, launching in Waitrose stores this week.
The Wensleydale Creamery has carefully combined the roasted malt flavour of Riggwelter, Black Sheep's strong Yorkshire Ale, with a selected rich, creamy mature cheddar, to give cheese lovers a true taste of Yorkshire.
The award-winning Wensleydale Creamery, based at Hawes in Wensleydale, in the heart of the Yorkshire Dales National Park is home of the famous Yorkshire Wensleydale cheese. It is renowned for its traditional cheese-making skills as well as being innovative with the development of new cheese recipes.
Over the past twenty years it has used its cheese knowledge and expertise to develop numerous blended cheeses which have become best sellers, its most notable being Yorkshire Wensleydale & Cranberries, as well as seasonal feature flavours; being widely acknowledged as innovators in the world of cheese.
Spotting a gap in the market for a 'beer cheese', The Wensleydale Creamery chose Black Sheep Brewery's Riggwelter Ale to combine with, and give a depth of flavour to, the creamy mature cheddar cheese.
The stylish Wensleydale Creamery branded packaging also features Black Sheep Brewery's logo, highlighting the provenance of the beer used to make the cheese.
The Wensleydale Creamery's Mature Cheddar with Black Sheep Riggwelter Ale is available in over 190 Waitrose supermarket stores in 200g packs with a RRP £2.75 and a 2 for £4 offer.
For more information on The Wensleydale Creamery, visit www.wensleydale.co.uk.