Thirty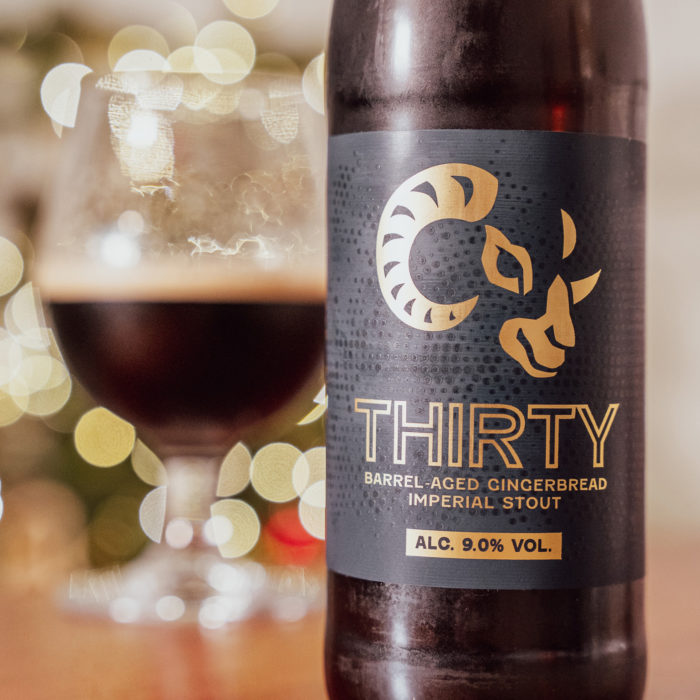 We know, we know. We only just released Imperial Yorkshire Stout and here we are again with another pitch-black, high-octane stout. But tis the season for Imperial Stouts in our books, and what better way to round out our 30th Birthday year?
Thirty is a barrel-aged gingerbread imperial stout, coming in at a hefty 9% and presented in a beautifully designed special edition 500ml Vichy bottle.
A complex malt bill of brown, crystal and chocolate malts as well as roasted barley and torrefied wheat create the base of this beast. Fuggles, Progress, Challenger and Goldings hops provide plenty of bitterness, along with a resinous, earthy hop character.
Following fermentation, the stout was aged on gingerbread ingredients, adding spicy, warming character, before spending a further seven months in ex-rum and bourbon barrels. This prolonged aging mellowed this already complex beer, adding subtle boozy oak and vanilla notes and gentle, bright acidity in the form of sour cherry flavours!
The resulting beer isn't overly sweet and cloying like a lot of Imperial Stouts, instead finishing light and dry with tingling carbonation, making it eminently drinkable. It pours a deep brown with a soft tan head.
Thirty is a firework display of aromas and flavours, a perfect celebration beer, available here.