Talking Truths with Jester Jacobs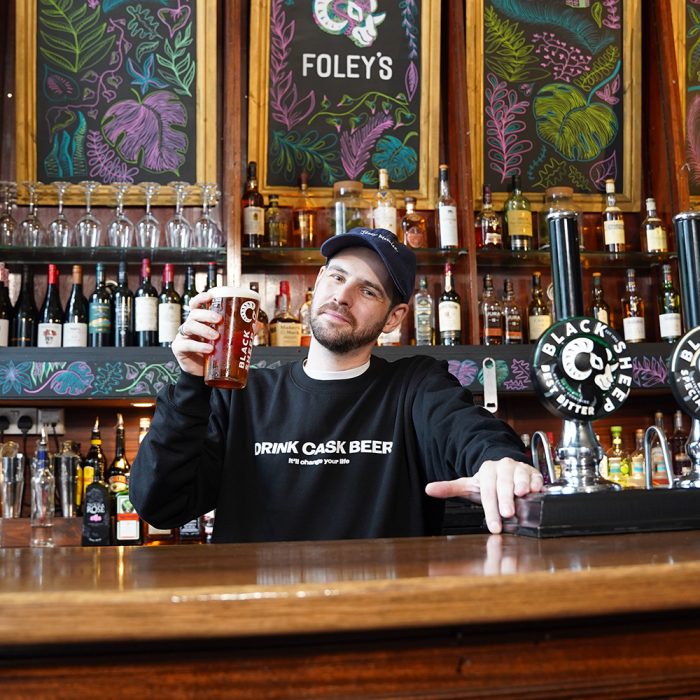 'Do your bit by drinking beer of high quality'
Following the launch of our #DrinkCaskBeer campaign in February with Renegade in the Round, followed by Mean Tweets with Maisie Adam in June, we're proud to launch the third film as part of the #DrinkCaskBeer campaign today, the first day of Cask Ale Week 2022!
As always, we've torn up the rule book and looked to work with someone with a fresh perspective in the hope of repositioning our precious cask beer category. This time, we've recruited multi-award winning comedian and rapper, Joe Jacobs, aka Jester Jacobs, to write, perform and deliver a thought-provoking, yet fun piece about our love for cask beer, whilst also highlighting the current challenges facing cask beer and Britain's pub industry.
Cask beer is a British icon, and one that has sadly been in decline for the last decade. A pint of cask is a delicious one, and it's also the freshest there is, not to mention being natural, sustainable and local. Put simply, cask beer is perfect.
Cask is also only available at the pub, which themselves are facing huge challenges as we approach the colder months. Energy prices are rocketing, cost of living is increasing and the hospitality sector is still recovering from the pandemic so we need to rally around pubs, support them, and drink cask beer in them.
Through Joe's slick lyrics, we hope to inspire punters to support their local and drink cask beer. It's also a message to the new government, who we need the help of to protect our wonderful pub industry. Joe's a true master of his art and we couldn't be more excited to be working with him in an effort to promote the conversations around cask.
So here it is: Talking Truths with Jester Jacobs.
Cask beer is the core of Black Sheep. Our founder and the original Black Sheep, Paul Theakston, set up the brewery out of a love for brewing independent and delicious cask beer, and it's a core part of our business. There's not much we love more than a pint of Best Bitter in the pub, and that's something we need to fight for.
In building our #DrinkCaskBeer campaign, we highlighted four areas that we wanted to focus on, and we believe the cask category can be reignited if cask brewers get behind the cause.
Firstly, the industry needs Leadership. It wasn't long ago that cask was the chief beer category on the market, but it has since lost its footing over the course of time to other categories and wider social challenges. Cask producers need support as they modernise and pivot to captivate new consumers.
Cask needs Innovation. Cask isn't and shouldn't just be English Bitters and Pale Ales, it's a format that can work for any beer style. Often, we hear cask being described as a 'traditional' style, but cask beer can be modern, versatile and progressive in so many ways. There are great opportunities for cask producers to experiment and innovate within the category (and many already are). More innovation in the category will continue to attract new drinkers to this category.
Sometimes we take it for granted that people know what the hand-pull on a bar is, so we believe Education – both consumer and trade – is key to growing the category. Drinkers who have never tried cask before need to be made aware of the qualities of cask including its ingredients, the process and its sustainable attributes. There's also work to be done to guarantee cask is always kept and served correctly in pubs.
Repositioning cask beer is the last focus – we need to reframe the cask conversation so that people don't just assume the stereotypes are true. It's just as exciting as any modern craft product, and one that anyone (over 18!) can enjoy.
We hope Talking Truths will inspire punters to head out to the local, and that we can reignite the passion to #DrinkCaskBeer. The two go hand in hand.
So for Cask Ale Week, which runs from 22nd September – 2nd October, why not go down to your local and in the words of Jester Jacobs 'drink beer of high quality!'.