Mean Tweets with Maisie Adam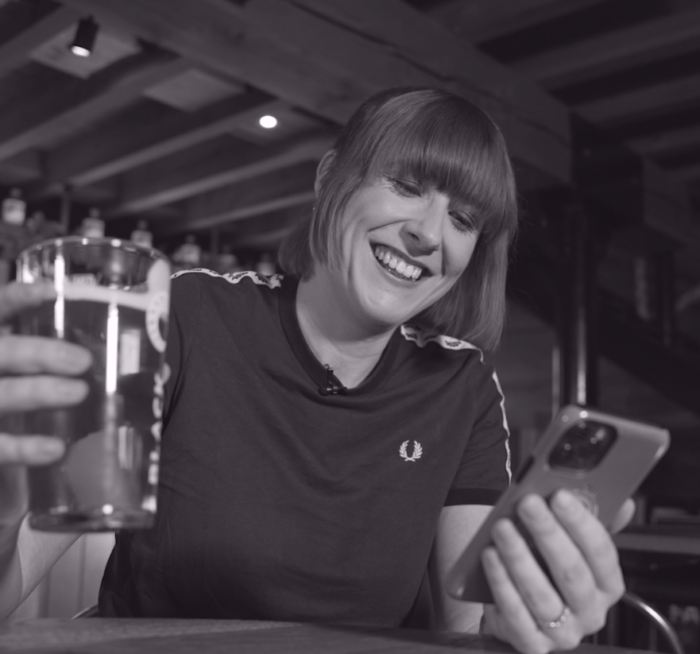 Back in February, we launched #DrinkCaskBeer, our campaign designed to spread the love of cask beer and encourage people to give it a try. The cask beer category has sadly been in decline for the last decade, compounded by the pandemic, which paused its consumption entirely for a while.
We launched this campaign with our spoken word piece 'The Renegade in the Round', declaring our love for cask and nailing our colours to the mast. We've continued to champion this wonderful pub-only product, especially trying to encourage young people who might never have tried it before, as well as attracting those people who have stopped drinking cask, back into the category.
Today, we're launching phase two: Mean Tweets with Maisie Adam. Maisie is a local Yorkshire lass and a comedy legend, having featured on 8 Out of 10 Cats, Have I Got News for You? and Mock the Week. She was the natural choice to help us respond to some of the myths and stereotypes surrounding our beloved cask beer. With the help of Maisie, we've addressed the haters of cask beer head-on, who falsely publicise non-truths about this amazing form of beer.
*Warning: Contains strong language and some questionable adjectives for cask!*
Cask beer is our lifeblood. Our founder and the original Black Sheep, Paul Theakston, set up the brewery out of a love for brewing independent and delicious cask beer, and it's a core part of our business. A fresh, cool pint of Best Bitter after work on a Friday is a truly special thing, and something we need to fight for.
In building our #DrinkCaskBeer campaign, we highlighted four areas that we wanted to focus on, and we believe the cask category can be reignited if cask brewers get behind the cause.
Firstly, the industry needs Leadership. It wasn't long ago that cask was the chief beer category on the market, but it has since lost its footing over the course of time to other categories and wider social challenges. Cask producers need support as they modernise and pivot to captivate new consumers.
Cask needs Innovation. Cask isn't and shouldn't just be English Bitters and Pale Ales, it's a format that can work for any beer style. Often, we hear cask being described as a 'traditional' style, but cask beer can be modern, versatile and progressive in so many ways. There are great opportunities for cask producers to experiment and innovate within the category (and many already are). More innovation in the category will continue to attract new drinkers to this category.
Sometimes we take it for granted that people know what the hand-pull on a bar is, so we believe Education – both consumer and trade – is key to growing the category. Drinkers who have never tried cask before need to be made aware of the qualities of cask including its ingredients, the process and its sustainable attributes. There's also work to be done to guarantee cask is always kept and served correctly in pubs.
Repositioning cask beer is the last focus – we need to reframe the cask conversation so that people don't just assume the stereotypes are true. Cask beer isn't warm, flat, or just for old white men, it's the opposite, and we need to make that clear to everyone who visits the pub. We're proud of Mean Tweets, as it takes these misconceptions, and turns them on their head.
We hope that this next phase of #DrinkCaskBeer changes some minds over the coming days and months, and we'd encourage anyone and everyone to go out and try some cask. Cask beer is fresh, natural, sustainable, quintessentially British and it's only available at the pub, so grab a couple of mates and pick up a few pints of the best stuff.
Our #DrinkCaskBeer campaign has only just started, and we've got more activity planned for the year ahead, so if you'd like to get involved, please reach out at drinkcaskbeer@blacksheep.co.uk