New Beer with Monty Python!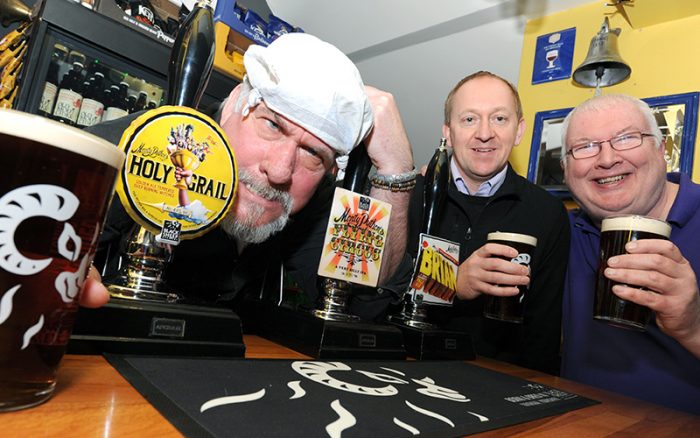 This month, we're once again teaming up with our friends at Monty Python and launching a new beer to our seasonal range of cask ales.
Following in the footsteps of 'Holy Grail' and 'Brian', 'Flying Circus – A Very Silly IPA' is our third collaborative brew with the Python team and is set to be a big hitter! It will launch to the trade this month and after a very fun evening launching the beer at the Flying Circus pub in Newark on 12th March, we can't wait to hear what you think of our latest brew.
At 4.5%, Flying Circus is brewed with First Gold, Galena and Amarillo hops to offer a complex nose of fresh citrus and juicy peach. A mash bill of pale ale malt and crystal rye give the beer a light red tinge and subtle notes of biscuit and caramel. It's full bodied and smooth with a lovely bitter punch.
We were absolutely delighted to officially launch this beer at the Flying Circus in Newark, a great stockist of ours and keen advocates for our beers. We had great fun with proprietors, Tony and Andy as the photograph suggests!
Jo Theakston here at Black Sheep Brewery is a Monty Python super-fan so can't wait to see how it goes down in trade. "As with Brian and Holy Grail, we are expecting Flying Circus to be a real talking point at the bar, as drinkers reminisce about and recite the classic lines from one of the world's most iconic comedy troupes.
"Our Python-inspired beers have grown to become regular and permanent fixtures among our range, and we are expecting Flying Circus to be a hit among Black Sheep drinkers and all fans of Monty Python.
"We have enjoyed a longstanding partnership with Monty Python and there will be plenty of 'sillyness' and enjoyment during spring from our latest Python brew!
Flying Circus will be available on cask throughout the country, be sure to let us know via Twitter or Facebook if you spot it out-and-about!