Hoptacular – Big Hop session Pale Ale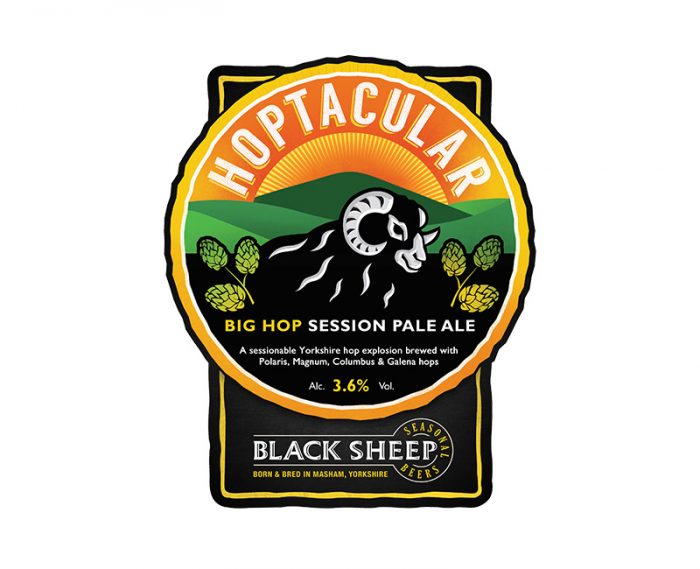 BLACK SHEEP'S NEW ALE IS HOPTACULAR … 
A hoppy Summer treat for beer fans, this the newest of our seasonal beers will be in pubs in July and August.
Hoptacular is a refreshing, pale ale, with a hoppy taste explosion, appealing to the growing numbers of drinkers moving towards lighter, golden beers as an alternative to lagers, as well as to existing ale fans.
Fans of our previous Summer ales, such as Velo, which became the Brewery's most popular ever seasonal ale when it was launched in 2014, will be delighted by Hoptacular, which is a 3.6% ABV session ale.
Hoptacular has been developed in the Brewery's five barrel microbrewery in Masham, North Yorkshire. With hoppy flavours increasing in popularity among ale drinkers, our brewers has used four varieties of hops, Polaris, Magnum, Columbus and Galena, to create one of their most aromatic and explosively hoppy beers to date.
Jo Theakston, Sales and Marketing Director at Black Sheep Brewery, said: "Most people enjoy a pint of great beer in the Summer, with pale ales that carry refreshing flavours proving hugely popular when the weather warms up.
"With the new, hoppier Golden Sheep proving very popular and a real growth in the popularity of hoppy flavours being enjoyed across pubs, we hope drinkers are going to love Hoptacular."
As well as being available in pubs during July and August, Hoptacular will take pride of place on the bar at the Black Sheep Brewery Visitor Centre throughout July and August, alongside the rest of the Black Sheep flock.