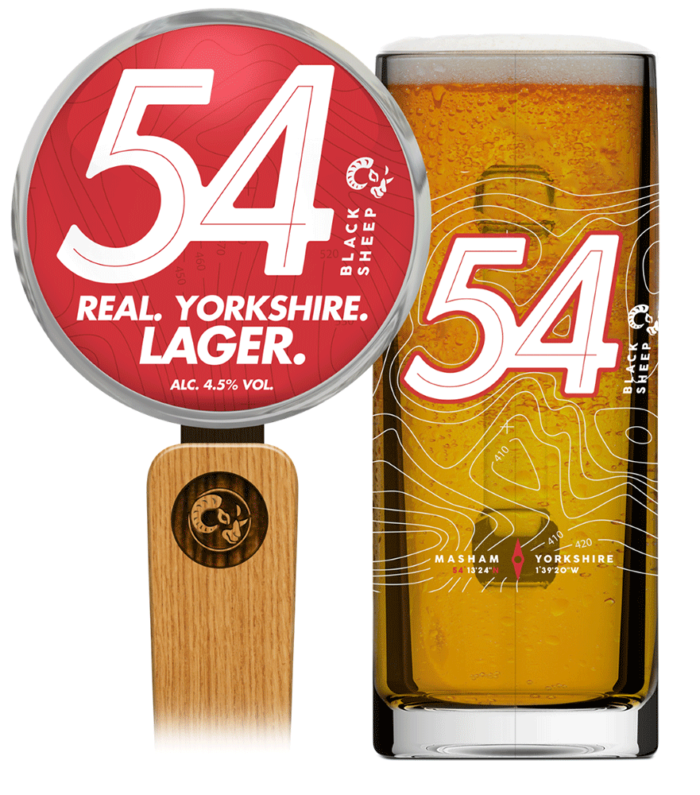 54 Lager
Join us on the 54th parallel.
At our brewery in Masham, North Yorkshire, we brew 54 to a simple yet unique recipe that has Yorkshire authenticity at its heart.
German Pilsner malt forms the base 54 whilst a blend of noble hops from Bavaria give it a distinct, aromatic finish with vibrant floral notes aplenty.
---
54 Lager Cans are available from our online shop
---
Why is it called 54?
54 Lager takes the classic German Helles style and adds a Yorkshire twist. The name '54' alludes to this, with Masham sitting on the 54th North Parallel.
Using a classic recipe of crisp, clean Lager malt and layering it up with classic German hops Polaris, Magnum and Tettnang, the result is a beautifully light, refreshing beer. The hops bring grassy and herbal notes to the slightly sweet malt base, and finishes with a glorious crisp, dry finish.
For more info on how you can stock 54 lager in your pub, visit our Trade Partners page.
---
ABV
4.5

Colour

Gold

Aroma

Delicate grassy and herbal hop notes.

Taste

Light, sweet malt carries gentle hop flavours, each sip bright and effervescent.

Food Matches

Great with as hot of a curry as you can handle!

Ingredients

Hops, Malted Barley, Torrefied Wheat, Water, Yeast
Awards
Trade Enquiries
For more info on how to stock black sheep beers in your pub
Visit trade page