Riggwelter's New Look!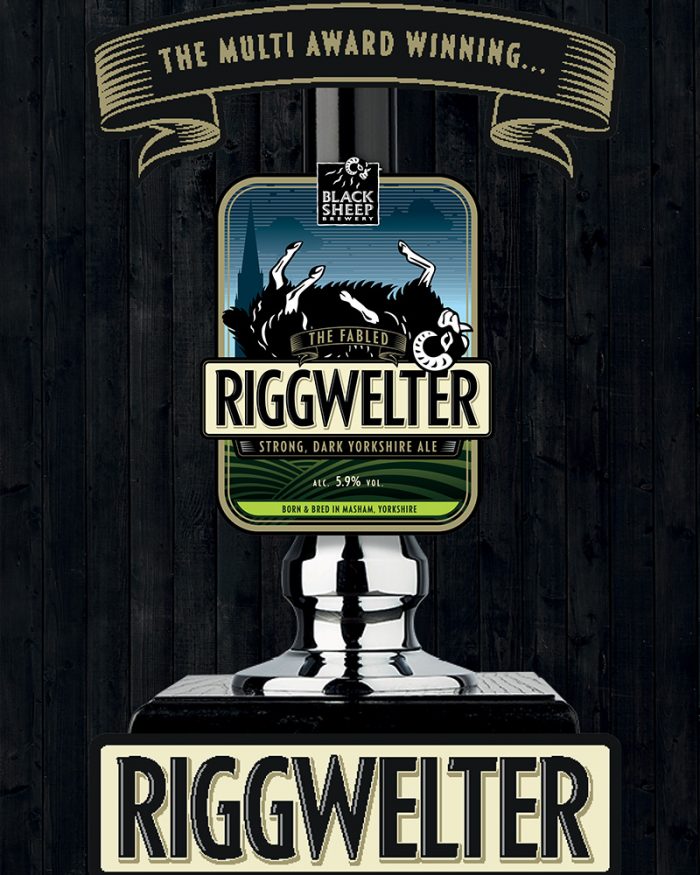 The Fabled, legendary, Riggwelter has taken on a new form as we introduce a fresh, prevailing pump clip and bottle label to represent our very own 'Wolf in sheep's clothing.'
It was the third beer we ever brewed here at the Black Sheep back in 1996 and remains an unwavering beast in our portfolio of beers. It's a true, in-house favourite and is much adored throughout the UK. Having received numerous international awards over the course of its life (including a load this year – more on that later), we felt it was time to give something back to our 'Rigg' and give it a fresh new look!
For those of you who don't know the story behind Riggwelter, the name derives from local Yorkshire dialect referring to a sheep which is on its back and cannot get up; 'rigged' or 'riggwelted'. The beer's new pump clip and bottle label includes our iconic sheep laid on its back against a backdrop of Masham's church spire and the rolling Yorkshire Dales, our home.
On cask, Riggwelter sits at an uncompromising 5.9%, packing huge flavours and layers upon layers of complexity. In the bottle, the ABV is slightly lower at 5.7% but still remains as ferocious when it comes to the taste and aroma. An array of flavour comes through with notes of banana, coffee, liquorice and chocolate over a warming alcoholic spike. This strong, dark Yorkshire ale continues to offer taste buds a bombardment of distinctive, flavoursome pleasure! We wouldn't change it for the world!
One of Riggwelter's biggest fans, within our own flock here at the Black Sheep, Jo Theakston, said "Riggwelter has established itself as one of our flagship ales and a popular choice for customers both young and old. We're seeing something of a resurgence in the popularity of big flavoured dark Ales and Riggwelter is one of the best there is!"
You're not wrong, Jo! It's enjoyed been coated in ribbons and rosettes over the past few months with recent awards including a Gold Medal at the 2016 International Beer Challenge as well as being named the 'UK's Best Strong Dark Beer' at this year's World Beer Awards.
The new look will fall in good time for our HUGE 25THAnniversary celebrations next year! And Riggwelter has definitely dressed for the occasion!
Jo added, "We've been sympathetic to the original bottle design but have refreshed the label to give it much more modern feel with a much cleaner and bolder standout of our 'riggwelted' sheep. 2017 is a landmark year for Black Sheep, in what will be our 25thanniversary, so we are preparing for an exciting year ahead that will feature many of our tried and trusted classics as well as some new creative, seasonal ales!"
Cheers Jo!
So folks, go see if you can find it on a bar near you. If you do, send us a picture and let us know what you think!