New look, same great Black Sheep Ale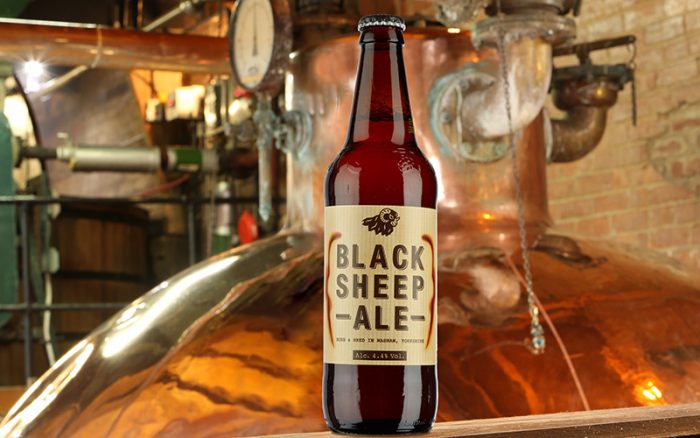 We are infinitely proud of our brand, the way it has garnered the attention and loyalty of not only Yorkshire's ale fans, but those around the country and beyond. Being a constant in an ever-changing and often competitive industry is a great thing and something we have worked hard at; but we know that some change is good in order to keep growing. This is why we have made some alterations to the Black Sheep Ale branding. We wanted a look which would hold onto our heritage but embrace the growing popularity of our product and all those customers we are yet to welcome into the Black Sheep family. A lot goes into the creation of a brand; it is more than an image, it is the ideas, the process, the memories and nostalgia that brand can carry for people, so we asked Marketing Manager Jo to share some of his memories of the product and why it was the right time to make some changes.
What are your earliest memories of Black Sheep?
I have grown up with Black Sheep Ale, it has been a part of my life since its inception in 1992. It was the second brew that came out of the freshly minted brewery in the September of that year and for me as a teenager at that time, it was exciting drinking a fresh new beer (not to mention being able to take your own 'home brew' to parties). It really challenged the status quo and offered a totally different taste. The concept of a 'Premium bottled Ale' was only just coming onto the radar after years of inadequate offerings by the supermarkets.
Some didn't like it and thought it too bitter, too challenging and even that it had too much flavour! That didn't bother us. With a beer label that threw a curve-ball at the existing old fashioned styles and a beer that challenged it proved a refreshing change to the market and it steadily grew into one of the best selling bottled beers in the UK. Someone must have liked it! Today, despite not having the deep pockets of bigger brewers we maintain a strong position in the market, though not the new kid on the block it remains a beer that the nation, and particularly Yorkshire, has taken to it's heart.
With such happy memories of the brand, why change now?
Well, I have grown up (my wife may argue!) and the brand has too. We wanted to bring the design up-to-date, somehow combining the classic elements like the ale's maverick roots, but make sure it could still hold its own visually alongside the beers of today. The aim is to keep Black Sheep Ale as a stand out product; a leader in a saturated market. All of this considered, we opted for bold simplicity, which is maybe a subconscious Yorkshire reaction, but something that felt right, and encapsulated the feel of the original. I think it looks great ( though I am biased..) and I hope the many loyal dyed in the wool Black Sheep' drinkers will continue to feel proud drinking it and just a few who are new to it may still sneak it along to a party or two.
You can pick up some new look Black Sheep Ale now!