It's the most wonderful time for a beer!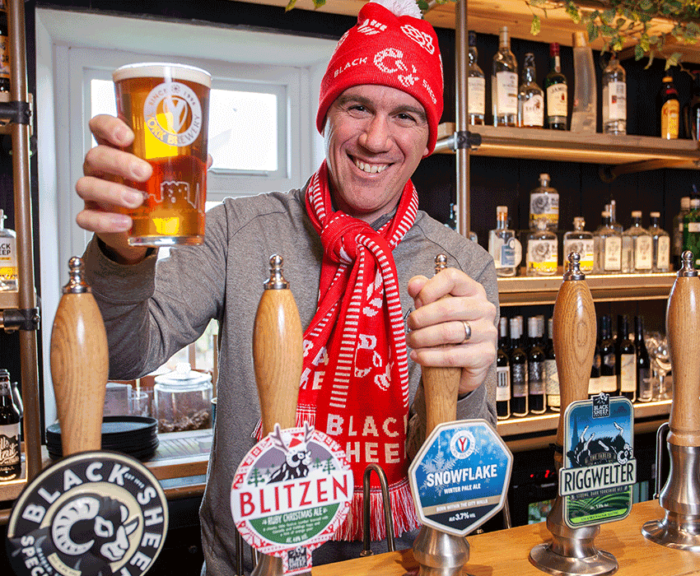 There's no escaping it, we're well and truly into the festive season and so it's time to launch Christmas brews for 2019 – hurray!
Long time followers of Black Sheep will know that for us, Christmas is all about our favourite reindeer, Blitzen! For those of you who don't know Blitzen, this is our prized Christmas ale that we roll out every November to spread festive cheer across the nation. It's a 4% Ruby Ale packing big notes of chocolate, biscuit and dark fruits. A touch of orange peel that we use in the hop back adds a very subtle citrus edge which blends beautifully with the spiky bitter hops we use in the boil. It's has a silky smooth body and is perfect when paired with warm mince pies with lashings of brandy cream – you gotta give this beer-food combo a try! We reckon Blitzen makes the perfect Christmas pint so if you're a pub or bar and want to get hold of some for your festive range of cask ales, do get in touch!
If lighter beers are more your bag then do not fear, we're delighted to be bringing Snowflake back as part of our York Brewery range of beers! Snowflake has always been a firm favourite with followers of York Brewery and so we can't wait to bring you more for 2019. Brewed using Willamette and Cascade hops, Snowflake makes a perfect session pint for Christmas. Sitting at a sessionable 3.7%, it is a great all-day pale ale to enjoy with friends and family during your Christmas holidays. It has a fruity, citrus punch which works wonders alongside the light malt base – a real showcase of the amazing US hops we use. The light bitterness will cut against that rich, flavoursome food over Christmas so it's a great pint to enjoy with your turkey!
Without a doubt, this is our favourite time of year here at Black Sheep and releasing these beers is getting us excited for the weeks to come.
Happy Christmas folks and be sure to share pictures of Blitzen or Snowflake with us on our socials, we might give you a shoutout!