Respire: Our new permanent cask beer is a breath of fresh air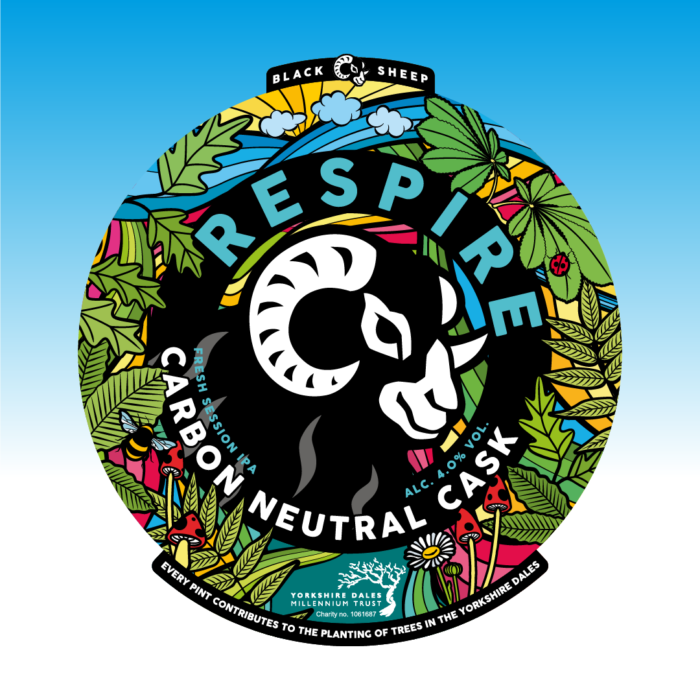 It's no coincidence that it's Earth Day today as we launch our new permanent cask beer Respire, which is officially carbon neutral.
Clocking in at 4%, this session IPA is heavily hopped with Citra and Chinook, producing huge tropical and citrus notes, carried by a soft, velvety malt base of pale malt and torrefied wheat. Respire is bright and incredibly drinkable, making it perfect for the pub garden as summer rolls around.
To launch the latest addition to our cask range, we opened The Breathe Inn – a pop-up pub below Ribblehead Viaduct in the heart of the Yorkshire Dales. Walkers were able to sample a pint or two of Respire after (and occasionally before) scaling one of the three Yorkshire Peaks. It goes without saying that it went down very well.
Beyond being a cracking pint, Respire has a serious purpose. Sustainability is hugely important to us at Black Sheep, and we have plans to meet Yorkshire's targets of being carbon neutral by 2034 and it all starts with Respire.
The carbon footprint of Respire has been measured by an independent environmental consultancy before being officially offset by purchasing carbon credits which are being used to fund two bio-diversity projects in Indonesia and Peru. At the moment, we can't officially offset the carbon footprint in the UK as there are no 'official' audited projects here and they are all currently overseas.
BUT we wanted to go further – and have an impact on our doorstep.
That's why we're working with an amazing local charity, the Yorkshire Dales Millennium Trust. For each brewer's barrel of Respire sold, we will donate £5 to the charity to help fund sustainable projects in the Yorkshire Dales including tree planting and community work. By drinking Respire, you are actively contributing towards sustainable projects here in our back yard!
Steel casks are inherently sustainable, each one having an average lifetime of over 20 years, so it made sense to release this beer exclusively, and proudly on cask. Keep an eye out at your local for this cracking pint.
Designed to be wonderfully refreshing, and directly linked to sustainable causes, we reckon the name Respire is spot on. It's also a nod to grabbing that first pint after a long week, heading out to the beer garden, and breathing in the fresh air. Peak relaxation.
The launch of Respire is a small step in our journey to become more sustainable and we have plans afoot to continue to reduce our impact on the world which we will be publicly publishing very soon.
---