Happy 25th Birthday to Otley Folk Festival!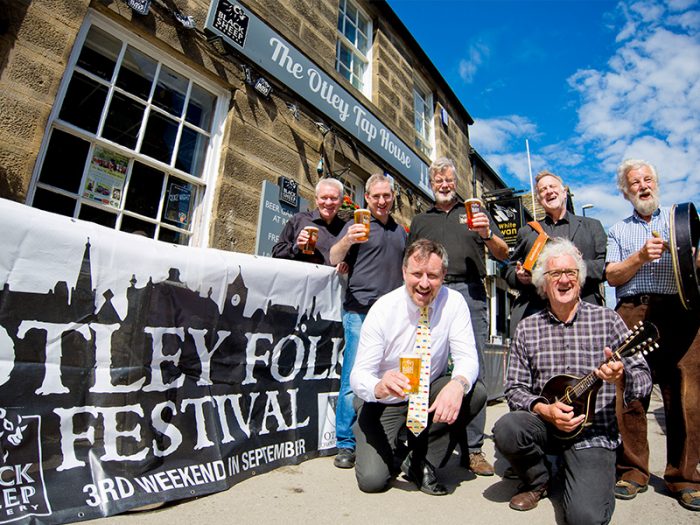 Our long affiliation with the fantastic event that is Otley Folk Festival continues this year as we celebrate their 25thanniversary!
To mark the momentous occasion, we've pulled together and produced 'Otley Folk IPA', a 4.5% ale packed with an assortment of British and American hops. The anniversary beer will be available at many of the legendary pubs and venues throughout Otley so be sure to sample a couple whilst enjoying a boogy or two down at the festival!
The Black Sheep Otley Folk Festival will see a host of local, national and international musicians descend on the town this weekend from 16th-18th September. It's always a thoroughly enjoyable event to attend and if you're a music lover then be sure to go along and check out the amazing talent that's on show.
We've supported the event since we began brewing back in 1992 – a year after the festival was first launched. The line-up for this year's event was unveiled earlier in the summer at the Otley Tap House by Paul Theakston, our Chairman and original 'Black Sheep', Greg Mulholland, the MP for Leeds North West, and Steve Fairholme, the festival's organiser.
The weekend will see the reunion of many of the original acts who performed at the inaugural Otley Folk Festival in 1991, including Stanley Accrington, Robin Garside, Dave Vermond, Last Orders and Tanglefoot.
Jo Theakston, Sales and Marketing Director here at Black Sheep, said: "We're proud of our long-association with the Otley Folk Festival and we wanted to do something special to mark its landmark anniversary. Otley Folk IPA is the perfect pint to enjoy while watching live music!"
"As always, the festival is shaping up to be another fantastic celebration in Otley and will offer a belting atmosphere for locals and visitors to the town throughout the weekend."
Here, here Jo! It'll be a cracking weekend and we're sure the beer will be flowing nicely!
Steve Fairholme of Otley Folk Festival said: "The creation of a special beer for the Otley Folk Festival is a great way to mark our 25th anniversary. We are extremely grateful for the continuing support of Black Sheep Brewery and we look forward to raising a pint of Oltey Folk IPA to celebrate the festival."
Well we're delighted to be part of the historic occasion, Steve! Have a pint of 'Otley Folk' on us!
Interested in coming along? Grab yourself some tickets here! http://www.otleyfolkfestival.com/