Another innings for Black Sheep & Yorkshire County Cricket Club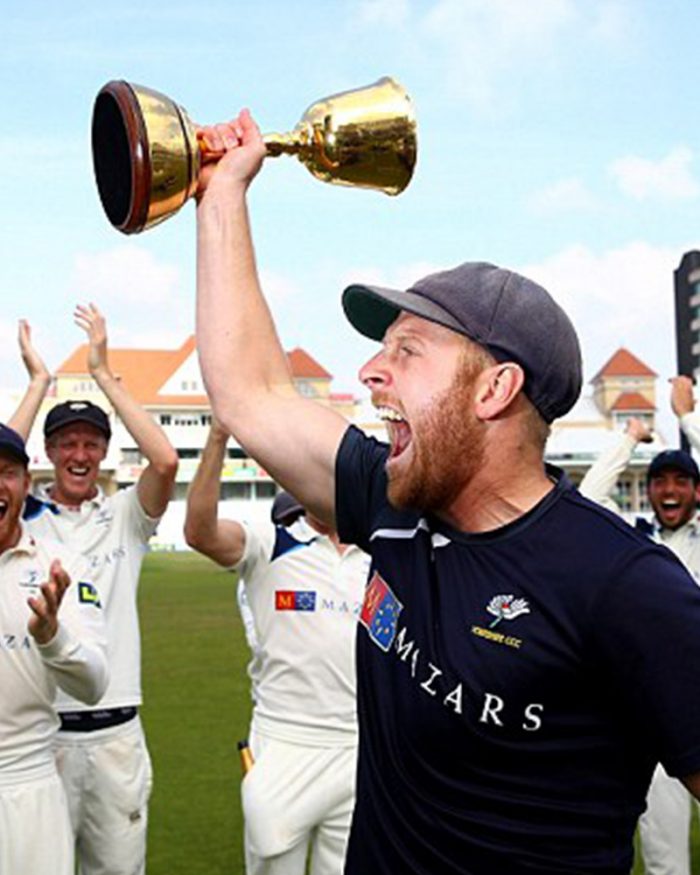 We are chuffed to bits to be able to announce that we have agreed to a second three-year term of sponsorship with Yorkshire County Cricket Club (YCCC). So we are still the official Beer of Yorkshire County Cricket Club. To celebrate we invited some of the YCCC stars to come on a pre-season tour with a difference here at the brewery. The ongoing partnership was toasted during the visit by the players' and coaching staff and the black sheep mob!
First Team Coach Jason "Dizzy" Gillespie, Director of Cricket Martyn Moxon, all-rounder Richard Pyrah and wicket keeper Andrew Hodd were among the stars given a special guided tour of the Brewery, by Black Sheep's Managing Director Rob Theakston and brother Jo, Head of Sales and Marketing.
Following the tour, fans were invited to join the Club stars for a pint, and a chance to get photographs and autographs.
Coach of the current County Champions, Jason Gillespie said: "It is fantastic to have these two Yorkshire icons, Yorkshire County Cricket Club and Black Sheep Brewery, partnering together again for the future.
"We had a great time at the Black Sheep Brewery, meeting members of the famous Theakston family and some of our fans as well. During my time in cricket, I have never before had the privilege of playing in an area as intensely proud as Yorkshire. You can see the pride the Black Sheep boys have for their beer, just as the region has for its cricket team.
"So, it was only fitting that this relationship was toasted with Yorkshire's finest beer."
Rob Theakston, Managing Director of Black Sheep Brewery, said: "This partnership brings together two important elements of Yorkshire culture in beer and cricket and we're proud to be the official beer of the club.
"Visitors there have come to see a pint of Black Sheep as an important part of their match day experience.
"Welcoming Jason, Martyn, Andy and Richard and the guys from Yorkshire County Cricket Club to the Black Sheep Brewery for a special tour and to spend time with beer and cricket fans was a fitting way to toast the new partnership.
"We are looking forward to an exciting summer, which we hope will be a huge success for the region, on the cricket pitch, on the roads of the Tour de Yorkshire, and in the pubs across the county, where drinkers continue to enjoy great Yorkshire beer, brewed in Masham."
Howzat for a great Yorkshire combination!