2022 Seasonal Cask Beer Range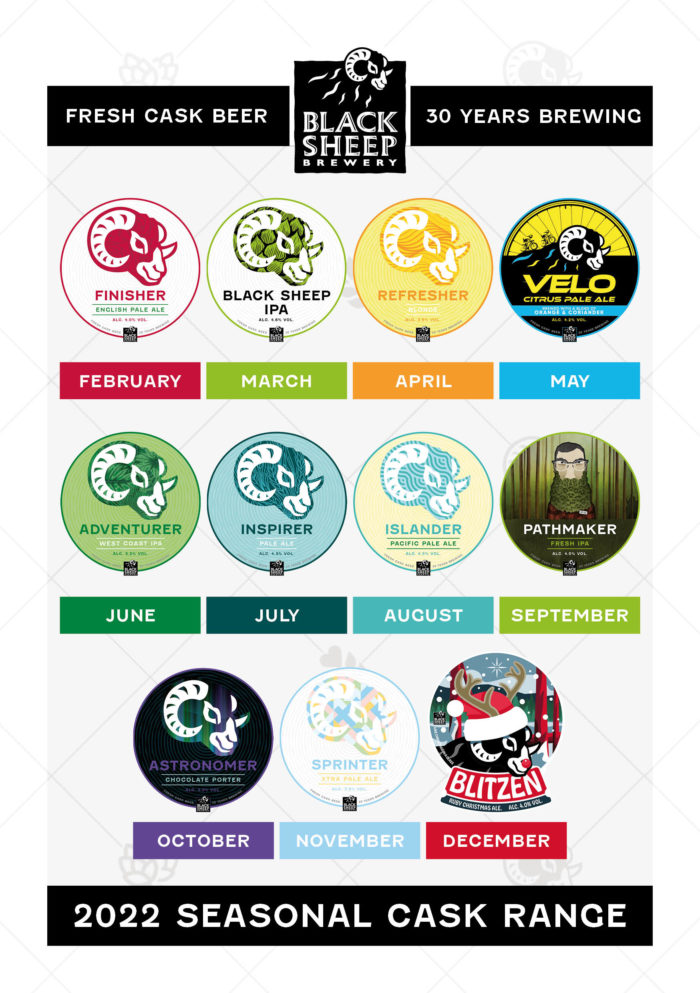 2022 marks 30 years of yours truly, crazy right?! We've got loads lined up for the year ahead as we celebrate the big three zero, starting with the launch of our new seasonal cask beer calendar. We're dead excited to introduce you, to what we reckon is our most exciting range to date.
We're committing to our biggest seasonal calendar ever, chosen by our expert brewing team, blending classic British beers and modern, craft styles. We're a forward-thinking brewery, so the range will include new styles but in a nod to our brewing roots, those classic British beers that we oh so love, will also be included.
In addition to the new range, we're bringing back a few fan favourites including Velo and Blitzen. Not only that, but we're also bringing Pathmaker back for another outing. This beer holds a special place in our hearts and is inspired by our founder and original 'black sheep', Paul Theakston. There's only one way to acknowledge legends here at Black Sheep, create a beer for them!
The full calendar includes:
February – Finisher, an English Pale Ale brewed in support of England's attempt to regain the Six Nations Championship.
March – Black Sheep IPA, a robust and hop-dominant pint with a rounded malt base.
April – Refresher, Black Sheep's take on the classic British Blonde Ale.
May – Velo, a juicy, vibrant and easy-drinking citrus pale ale that was first brewed to mark the 2014 Tour de France that passed Black Sheep's brewery gates in Masham.
June – Adventurer, a West Coast IPA loaded with hops from the hills of California, to mark the beginning of summer.
July – Inspirer, a classic premium pale ale taking the best of British ingredients and blending them with Black Sheep's Yorkshire brewing techniques.
August – Islander, a sunshine yellow Pacific Pale Ale brewed with Nelson SauvinTM hops from rural New Zealand.
September, Pathmaker, to mark the official date of Black Sheep's 30th birthday, Pathmaker is an unapologetic IPA brewed with Chinook hops, dedicated to founder, Paul Theakston.
October, Astronomer, a rich chocolate porter brewed using a blend of tasty dark and chocolate malts, ready for the dark autumn nights.
November, Sprinter, an Xtra Pale Ale brewed with new world hops, created to help you through the dark days of November.
December, Blitzen, this cheeky little festive number makes a return to mark the Christmas period and is brewed with Cascade hops, muscovado sugar and orange peel.
Want to know more about each of these beers? Click here and learn more about each brew's flavour profile, ingredients and food pairings.