Yorkshire Square Ale on cask (limited run)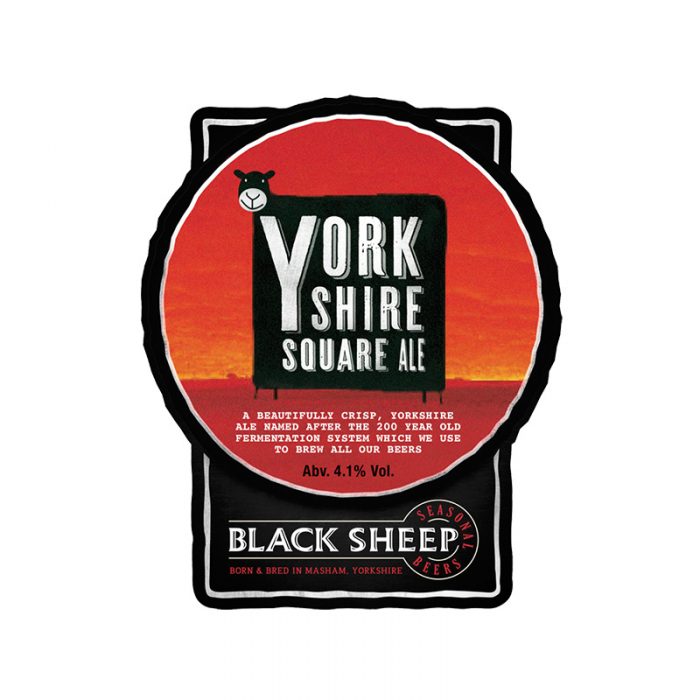 Glasses at the ready! Our world champion Yorkshire Square Ale is now widely available as a cask ale for the first time, 15 years after it was first Brewed!
The limited run will see our Yorkshire Square Ale, named the world's best premium beer at the 2009 World Beer Awards, available from pumps during the month of January as a special seasonal ale.
Originally brewed in 1999 to celebrate Black Sheep's unique Yorkshire Square fermentation process. Our 4.1% ABV, Yorkshire Square Ale is made with Maris Otter malt, Demerara sugar and a blend of Golding hops. The lower alcohol content means it's not only a premium pint, but also (if you're feeling thirsty) a great session ale!
Produced in the Caribbean, Demerara sugar has been used in Yorkshire Breweries since the 19th Century. It has increased the strength, flavour and body of the beer making it baaa'valicious.
The bottles branding, commissioned by internationally renowned British artist Mackenzie Thorpe features a square sheep, named Paul in honour of the Brewery's founder, Paul Theakston.
Marketing Director, Jo Theakston, said: "Yorkshire Square Ale is a beer of which we are rightly proud, not only because of the accolades it has received globally, but because of the way in which it has tradition running through it.
"Releasing Yorkshire Square Ale as a cask beer throughout January is a special treat for drinker and it is also very exciting for us. It's a great reason for fans of great beer to enjoy this one-off, world champion, premium ale from the pump."
Mackenzie Thorpe added: "As a Yorkshireman, the region's traditions are very close to my heart and Black Sheep's Yorkshire Square Ale embodies those customs, which have made Yorkshire beer a huge favourite around the world. Just like the artwork I was commissioned to produce in the 1990s, and which features on this beer to this day, this is a timeless piece, crafted with skill and passion that has premium quality, but broad appeal. It is fantastic to see Yorkshire Square Ale being given a wide release as a cask ale at last, so even more drinkers can enjoy it up and down the country."