We are in this together: Bringing Black Sheep to the local community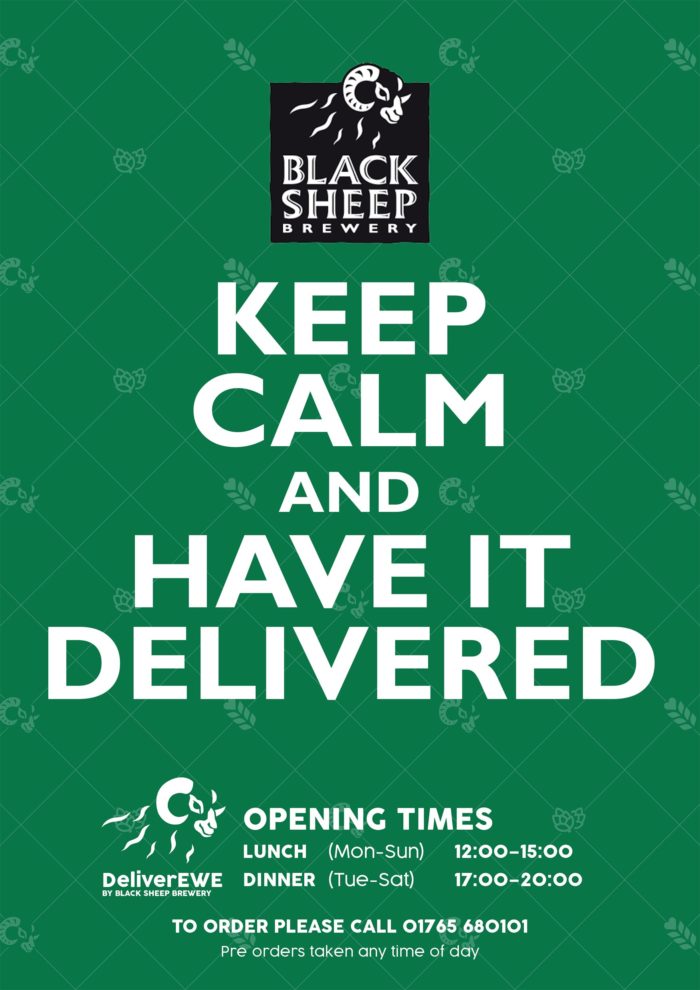 It may be a tough time for us all right now, but we have never been more proud to be a part of our local community. Here at Black Sheep our customers have shown us that in the midst of chaos, their support is as fierce as it has ever been.
We wanted to give something back.
This week we launched our DeliverEWE service, offering home deliveries of cooked food, bottled beer and fresh cask ale direct from our brewery to your front door.
Along with a selection of cask, canned and bottled beers, our chefs have put together a menu of starters, main courses and desserts, prepared to order and delivered to the good people of Masham and the surrounding villages.
If you're looking to treat yourself to your favourite brews to see you through, we've got you covered with a range of bottles and cans available to order. Or why not bring the pub to you and order a four-pint carry keg of fresh cask to enjoy in the comfort of your own home? Return your carry kegs to the brewery and have them refilled at a discounted price.
Our brilliant Black Sheep team will be following all advice on social distancing and hygiene during deliveries so, with this in mind, all orders and payments will be taken over the phone.
The brewery is taking orders at any time of the day with lunch being delivered between 12 and 3pm Monday to Sunday, and dinner orders between 5 and 8pm Tuesday to Saturday.
For those of us who are not self-isolating, we're offering a take-away service from our Visitor Centre Bar and Kitchen.
Charlene Lyons, our Chief Executive here at Black Sheep, said: "This is a tough time for everyone and social isolation, particularly for those in rural areas, is particularly hard. We want to do what we can to help our community stay in contact and have the opportunity to enjoy some good beer and food, especially if they are unable to get to the shops regularly."
"For those working from home or self-isolating, raise a glass of beer to the famous Yorkshire resolve we're all showing at the moment and we look forward to welcoming visitors back to the brewery when this is all over."