Visitor Centre – Now Open after 3 Week Refurbishment!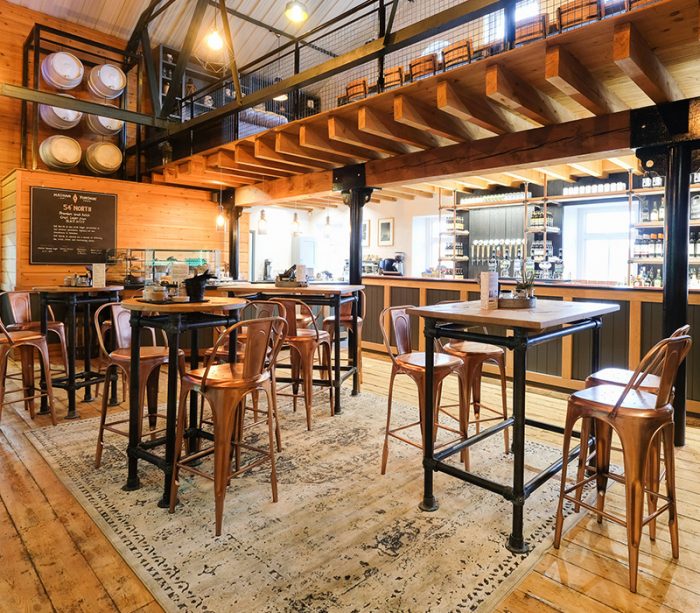 It's been a pretty hectic start to 2018 for us at Black Sheep. After an action packed Christmas, we set about making some changes to our Visitor Centre here at the brewery in Masham.
We first opened our Visitor Centre in 1996 and since then, we've rarely found the time to close the doors to update the look and feel of the space. So this January we took the decision to close the Visitor Centre for two weeks and make some exciting changes.
Amongst the changes, we've installed a new kitchen and have expanded the shop space so we can offer even more merchandise and beers for you to take home with you.
The biggest change however has come in the bar and restaurant area where we've updated all of the furniture and added some modern, exciting features to add real character to the Visitor Centre. Our bar has now been extended so we can offer a wider array of beers as well as allowing you plenty of space to prop up the bar when grabbing a drink. Our cask ales will remain at the front of the bar whilst at the back, we have built a keg wall to showcase our diverse and exciting range of keg beers such as those from the 5 Barrel Project and from our Craft range.
As well as all of that, we've had two unique light-boxes installed which sit on the edge of the bar area. These are filled with transparent bottles and when switched on, scatter light across the bar. It looks ace and is a cool addition to the space.
The new seating area in the bar allows for more casual drinking and dining, with an array of bar stools and cushioned arm chairs offering perfect comfort whilst digging into some food. In addition, we have altered the layout of our balcony area above the bar, which has now houses a couple of uber-comfy sofas and some longer tables for larger groups.
Our restaurant continues to offer plenty of seating and with our updated lighting, it has turned into a bright and glowing area that adds even more atmosphere to the unique space, especially in the evening.
So come and see it for yourselves folks! We'll be here to serve you the best pint of Black Sheep with some hearty food and a warm and relaxing atmosphere! See you shortly!