The Pathmaker Returns!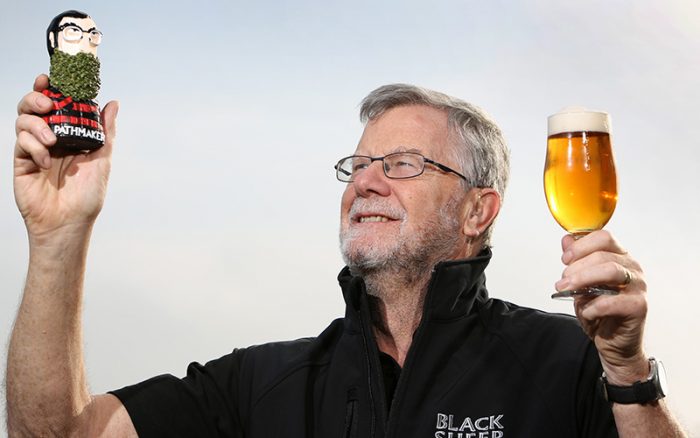 Our legendary founding father and the original 'Black Sheep', Paul Theakston, has been immortalised in the form of a limited edition tap handle figurine to mark our 25thanniversary and the relaunch of Pathmaker, our kegged pale ale named in his honour.
We originally trialled Pathmaker in 2015 as a bottled beer in homage to Paul, but now we're going full fathom and adding it to our core line up of kegged beers available all-year-round. It'll be available from 20th March, mainly in Yorkshire and our heartland area, so not long to wait now!
Pathmaker was created in recognition of Paul's reputation as an early pioneer against bland beer and mass corporations when he founded the Black Sheep and to this day, this remains a core value in our brewery ethos. He really was a trail blazer when he launched the Black Sheep back in 1992 and we have so much to thank him for, namely the amazing beers that he introduced to the world!
Our re-launched Pale Ale is brewed with Citra, Simcoe and Chinook hops, with an adventurous fresh aroma and a juicy hop burst. A malty mouthfeel and spiky bitterness finish the brew awesomely. Pathmaker is also available as part of our bottled craft range alongside Glug M'Glug and Moose Jaw.
Jo Theakston, Paul's son and our head of sales and marketing, said: "It's a special year for everyone connected with Black Sheep, so it's only fitting that we recognise Dad's achievements, who has been instrumental in making the brewery what it is today.
"Pathmaker embodies the spirit of Black Sheep and our rich history, and the commemorative tap handle complements the beer perfectly, as well as making for a striking sight at the bar!"
The new tap handles are already on show here at the Visitor Centre, why not come check it out over a pint?!