The Christmas Beer They Call, Brian!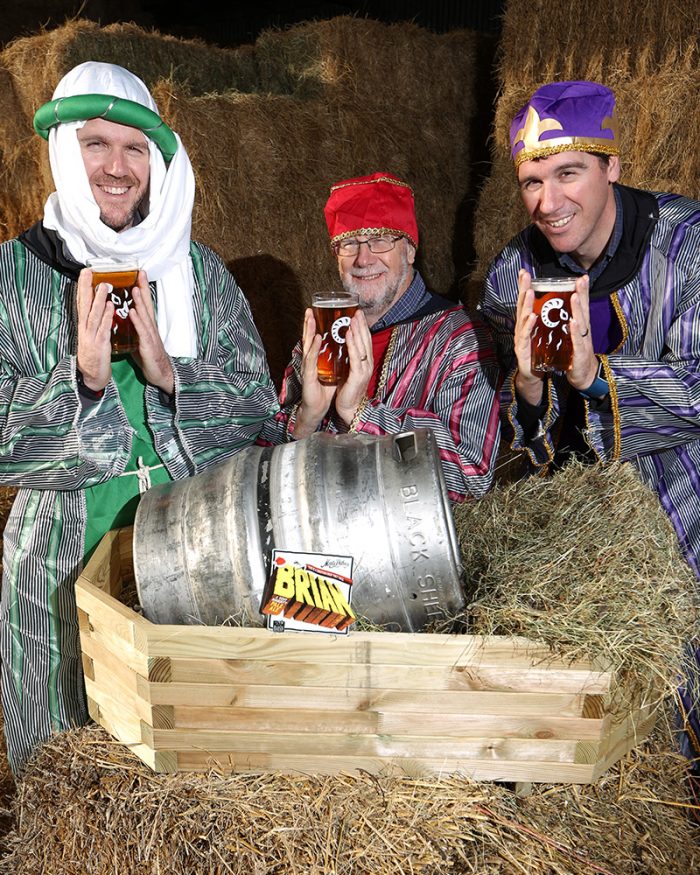 Witness the Birth of Brian, a very naughty Pale Ale!
This November sees the launch of our brand new, official Monty Python Christmas beer, Brian. This 'naughty' pale ale will be our second collaborative beer with the legendary Python team, as we add it to the Black Sheep portfolio alongside its big brother Holy Grail!
We've worked with the Python team for a long time, ever since we first brewed the ever-prevalent Holy Grail with them back in 1999, so we can't wait to see our latest Monty themed beer sitting on bars across the UK this Christmas! Brian is the ale embodiment of the hugely popular, cult classic film 'Monty Python's Life of Brian' which was released back in 1979. The beer was named following a Facebook vote amongst Monty Python's 1.2 million followers. You wanted Brian and we delivered! The Python team added the lines 'A Christmas Beer They Call…' and 'A Very Naughty Pale Ale' after the legend that is Michael Palin, had said: "I'd quite like to see 'naughty' on a beer bottle".
For those who haven't seen it, – why not?! – the film follows the exploits of Brian of Nazareth, a chap who was born on the same day as Jesus. He goes on to be mistaken for the Messiah and he even gets a visit from the Three Wise Men! It's a must-watch film this Christmas!
Brian is a 3.9% Pale Ale for those who are looking for something light and fresh over the Christmas period. It's a well-balanced ale with a delicate malty base and a crisp, hoppy bitterness. It has big stand-out at the bar with the iconic 'Life of Brian' lettering on the pumpclip. It will only be available in cask, but will be on offer nationwide so be sure to look out for it on handpulls down your local!
Jo Theakston here at the Black Sheep said "'Life of Brian' is one of the most iconic British comedy films of all time and the perfect inspiration for a festive Monty Python beer. The Pythons have been involved throughout the development of our new beer – I'm sure their fans and drinkers alike will agree it's a quality brew!"
We hear you Jo! This brew is sure to be enjoyed by the millions of fans out there!
"Our other Python-themed beer, Holy Grail, has become incredibly popular and helps kicks off pub banter among those who love to recite classic lines from the film. Brian very much follows in that tradition and might even help inspire some renditions of 'Always Look on the Bright Side of Life' in pubs throughout the Christmas period!"
Oh what an image that is!
So make sure you look on the bright side this Christmas, with a pint of Brian in your hand of course!