New Beer for February: Ram Tackle!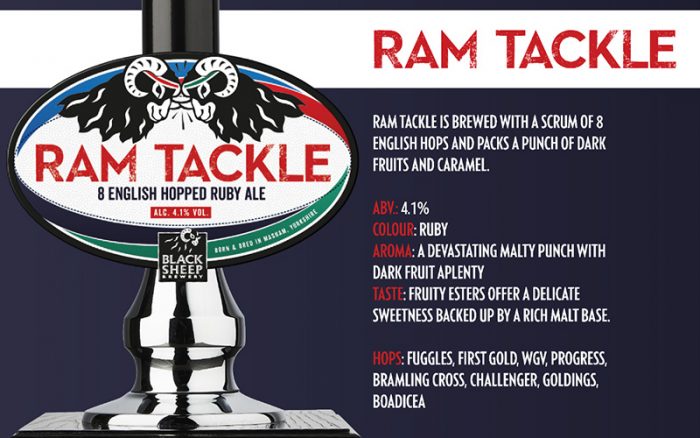 As the Six Nations fast approaches, we've knocked up another great beer to enjoy alongside the rugby!
We're kicking off our seasonal range for 2017 with Ram Tackle, a new beer from us here at Black Sheep. The release coincides with this year's Six Nations, which is set to be an exciting one with selection for the British & Irish Lions up for grabs for the UK-based players!
So with all that excitement looming, you'll need a beer to whet your appetite. And we've got a cracking one in Ram Tackle!
At 4.1%, Ram Tackle is the ideal pint for the rugby. Distinctly sessionable, packed full of character and ultra-satisfying. Only available on cask, it pulls a gorgeous ruby colour with a slightly off white head. The generous helpings (eight varieties!) of English hops add a mellow bitterness and seriously good taste. On the nose, expect a plethora of flavour, as dark fruits combine with roasted characters and a compelling sweetness. This continues on the palate, with those vibrant, fruits rising above rich malt base. Ram Tackle oozes with robust flavours and is a great beer to enjoy with friends in front of the rugby.
Our Head Brewer, Phil Douglas, is particularly happy about the arrival of Ram Tackle, as he himself loves to play a spot of rugby. He won't be playing this spring though, instead he's getting down to his local and watching the Six Nations with a pint of our February seasonal. We don't blame you Phil / Leslie!
So don't miss out on our new seasonal folks! Let's hope that England can continue their monumental run and successfully defend their Grand Slam title, and we'll hopefully be raising a pint of Ram Tackle on March 18th to celebrate!
RAM TACKLE HUBS
To help you find our February seasonal, we will be listing 'Ram Tackle Hubs' here on our website. The hubs will be stocking Ram Tackle during the Six Nations, so drop back here soon to see where to find it!