New Additions to the Black Sheep Flock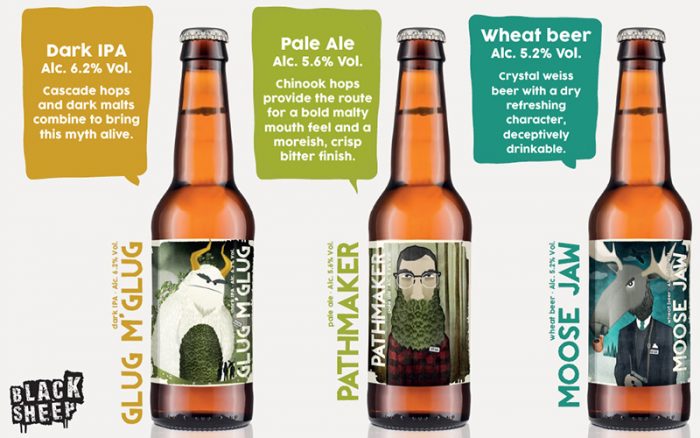 BREWING DYNASTY BROUGHT TO LIFE IN NEW ADDITIONS TO THE BLACK SHEEP FLOCK
Tall tales and stories of real-life adventure from one of the UK's best loved brewing dynasties are being brought to life in our new range of quirky beers.
Pathmaker, the first of the new ales to be unveiled, pays tribute to our founder Paul Theakstons pioneering spirit that challenged the blandness in the beer market in 1992 when he set up Black Sheep Brewery. Having already been released as a keg ale, a 5.6% bottled version of the pale ale has now been created. Not wanting this beer to be the only one we have created two other brand new beers – Moose Jaw and Glug M'Glug – both of these give an insight into the personal lives of the Theakston family.
Moose Jaw, a 5.2% wheat beer, has been developed in honour of Frank Theakston, Paul's father and the grandfather of our current Managing Director, Rob, and his brother, Jo, who is also a director at the Brewery. Frank was an RAF pilot who ventured to Canada to train the Canadian air force during the Second World War. He was based at Moose Jaw, before meeting his wife, a young Ontario girl, who was to become Rob and Jo's Gran, and made the perilous journey back to Masham on a North Atlantic convoy. It was Frank's early death, in his 40s, that led to Paul, then only 23, taking over the original family firm, from which he would eventually break away and establish Black Sheep.
Glug M'Glug, a 6.2% dark IPA, is named after a mythical creature, created by Rob and Jo's other grandfather. A hidden giant of the Yorkshire Dales, the young Theakstons were told stories of Glug M'Glug as the family walked the hills, to speed up slow young walkers who were delaying a visit to the pub at the end of the trek!
Together, these three new beers offer a new style of offering, with smaller, 330ml bottles and higher ABVs, placing the Brewery in a premium area of the market to reach out to experimental craft drinkers, while complimenting our other existing 500ml bottled brands.
Each bottle carries hand-drawn labels, representing care, craft and a quality presentation that reflects the skills exemplified by our team of brewers, who have recently been awarded Gold and Silver Medals in the World Beer Awards, for the bottled versions of Black Sheep Ale and Riggwelter, respectively.
Jo Theakston, our Sales and Marketing Director said: "Black Sheep always has been a family business, born from six generations of brewing, so it was only natural to delve into our past for inspiration. The stories are many and we wanted to support our new beers with something real and meaningful to us. Indeed all families have their own stories so it was fun to bring ours to life as beers!
"When Dad established the Brewery, it was to challenge, create and innovate. This ethos is at the heart of the craft ale movement today. From the very start, our beer has always been 'craft'.
"Looking back at the two generations before us, with my father and grandparents, there are fantastic, inspirational characters that we believe fans of the Brewery, and beer drinkers all across the UK, will enjoy hearing about, almost as much as they enjoy the beer itself."