Introducing, Bobby Horn's Easy Apple Cider
In this upside down, back to front world, we're joining the party to celebrate the spirit of our brewing forefathers (numerous Roberts) with an added sprinkling of Black Sheep attitude to create a new CIDER from Black Sheep.
We're all about creativity here at Black Sheep and usually, this takes the form of innovation in beer and brewing. More recently however, we've stretched into other categories, namely spirits, when in 2019 we launched our first ever gin.
This time, we're delving into cider, and much like brewing, it has a heritage of being produced to a very high quality here in the UK. Our cider is no exception to that rule and we can't wait for you to give it a try.
So, inspired by our brewing forefathers, we'd like to introduce you to Bobby Horn, our premium easy-apple cider!
As we enter a post-covid world, 'Bobby Horn' is the spirit of living life to the full, seizing the day and enjoying yourself.
The cider itself is a 4.7% premium session cider that is a unique Black Sheep blend using 100% British Apples. It packs higher juice content than a lot of other brands on the market, which delivers genuine enhanced flavour and bite. It's medium dry with a refreshing initial sweetness which leads to a crisp, dry refreshing finish from the classic apple blend.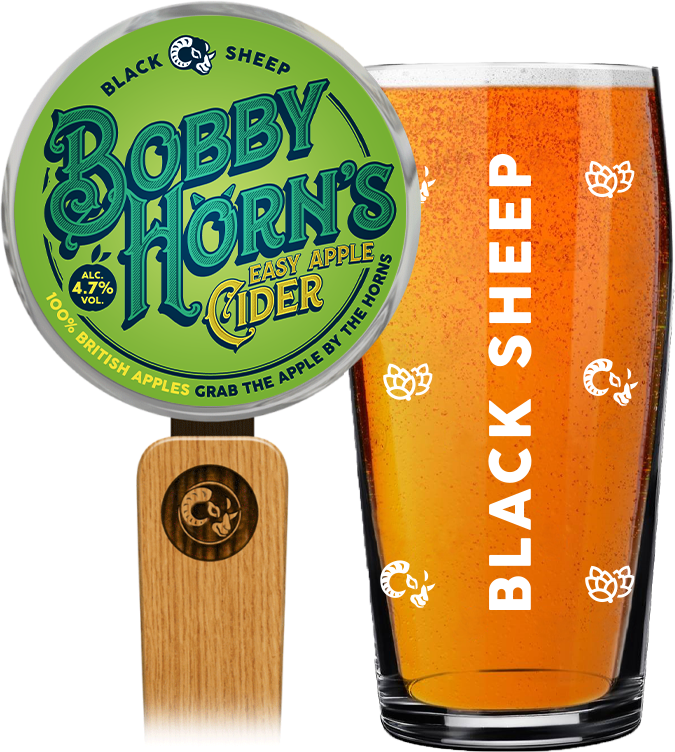 We're dead excited to tell you that it will launch on draught on Tuesday 13th July at the Great Yorkshire Show and in all of our retail sites, so be sure to pop to our beer tent if you're heading to the GYS this week where it'll be pouring alongside our beers and lagers.
If you're not able to make it to the GYS or to one of our pubs, do not fear. It will be available online for nationwide delivery at the end of July so wherever you are in the country, you'll be able to grab the apple by the horns!