Golden Sheep gets new fleece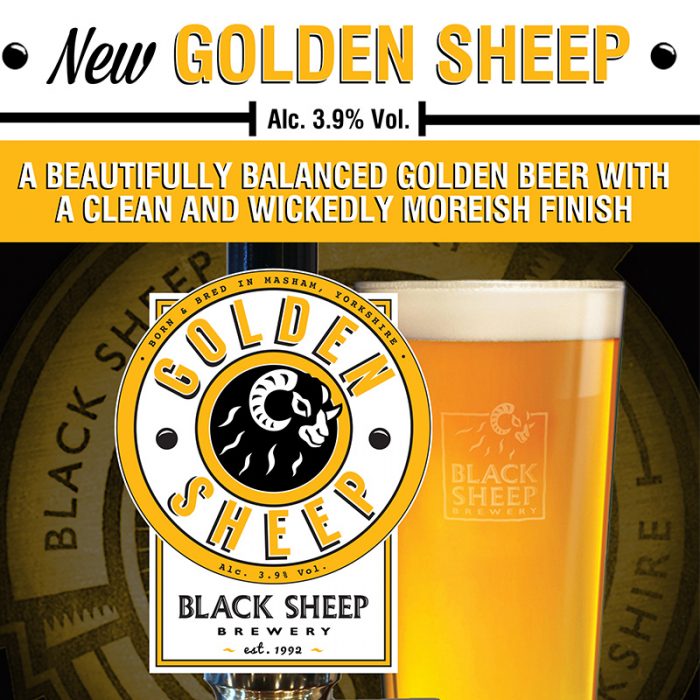 Golden Sheep has had a revamp, its fleece now has a new, fresh, more modern look.
We've refined our most beloved brew to pack more of a punch. The new improved recipe sees the beer benefit from a bigger hop hit, increase in aroma and bitterness levels.
The new Golden Sheep will be available on cask in pubs nationwide from Fe'brew'ery.
We want to ensure that our quality beers remain relevant to new and loyal ale drinkers alike! And this new move aims to make Golden Sheep one of our leading cask ales.
If you didn't already know our Golden Sheep is a 3.9% golden ale, brewed with the finest Maris Otter malt and a balance of First Gold and Challenger hops, fermented in our famous Yorkshire Square fermenting vessels. Each gulp delivers zesty flavours of citrus fruit and a hoppy aroma. Ewe'll love it!
Jo Theakston, Sales and Marketing Director said: "The re-branding of Black Sheep Best Bitter in October has had a positive effect, and this is the latest move in the evolution of our range. Golden ales are in growth and a key area of the on-trade as they are proven to bring new drinkers to ale. A re-energised Golden Sheep brand is well placed to make a real impact.
"Boosting the hop hit in Golden Sheep, which is already a great beer for those taking their first steps into cask ale, gives a fuller flavour and will help further its appeal to pubs and drinkers up and down the country."