Exciting News – New collaboration with My Generation Beer Co.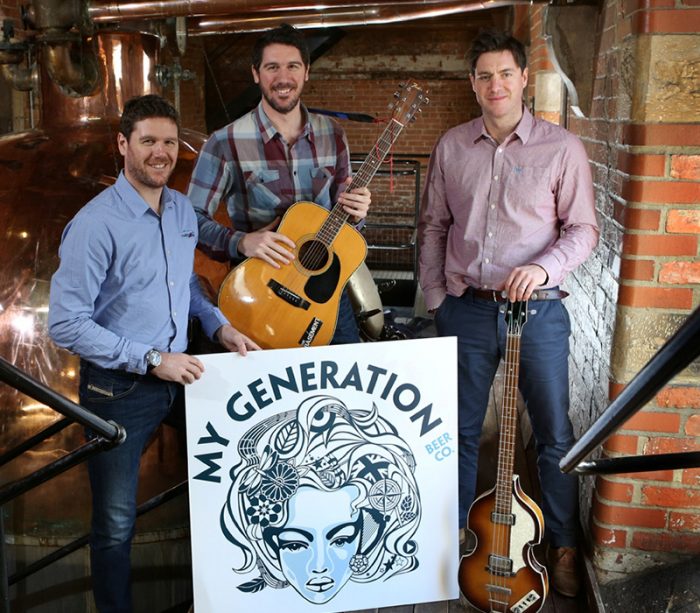 We are really excited to announce a new collaboration  with My Generation beer Co, led by brothers Rob and Jo Theakston, and industry man Jonny Kirkham bringing together the joint passions of people with a love of beer and music.
The My Generation Beer Company is a brand new "label" aimed at music and beer lovers.  Renowned beer lyricist Pete Brown is the trio's "support act", as content contributor to the company's digital platforms.
My Generation – Session Pale Ale is the signature brew and will be the official beer of Record Store Day 2015, which takes place in April and is a nationwide celebration of vinyl records. A three month seasonal listing has been agreed with Mitchells & Butlers' collection of Castle and Nicholson's pubs from March, while there will also be a selective on-trade distribution.
A programme of activity around festivals and other music-related events is being scheduled for throughout 2015.
My Generation, which will initially be brewed as a cask ale, will be brewed in Masham, North Yorkshire, and distributed through Black Sheep Brewery. A 4.2% light straw coloured session pale ale, My Generation Pale Ale is brewed from an exciting blend of new world hops including Cascade, Galena, Magnum and Polaris, which gives a big, fresh aroma and a cracking bitter finish.
A bottled version will follow, ahead of a planned 330ml can offering. Further brews will be released in due course.
Jonny Kirkham said: "There's a love of music in everyone and the My Generation Beer Company represents something brand new in the beer industry, bringing together quality ale and real music.  Music and beer go together like Lennon and McCartney and these joint passions are so strong among the three of us that we had to come together because we know there is loads of people out there which feels the same."
Rob Theakston said: "The three of us all share a love of music and passion for beer and we are excited to bring something new to the market like this. We are convinced there is a great crowd out there to embrace a brand like this from pubs to festivals, as well as overseas. It's an exciting new venture which will sit separately to the core Black Sheep business but our ability to distribute through the Black Sheep Brewery network is as good as any record deal going."
Jo Theakston added: "2015 will see My Generation reach out through pubs, festivals and other music happenings and celebrate creative culture. Like most people who strive to make a living from music, we are starting out in pubs, and the deal with Mitchells & Butlers is a fantastic intro to grow our fanbase.
"There are so many cohesive elements between the British beer and music industries, such as the battles to save both pubs and record stores around the country. It also gives ourselves the opportunity to take two of our finest exports to the rest of the world. It's feels natural to bring the two together with Jonny and develop the My Generation Beer Company."