A New Breed of Pale Ale from Black Sheep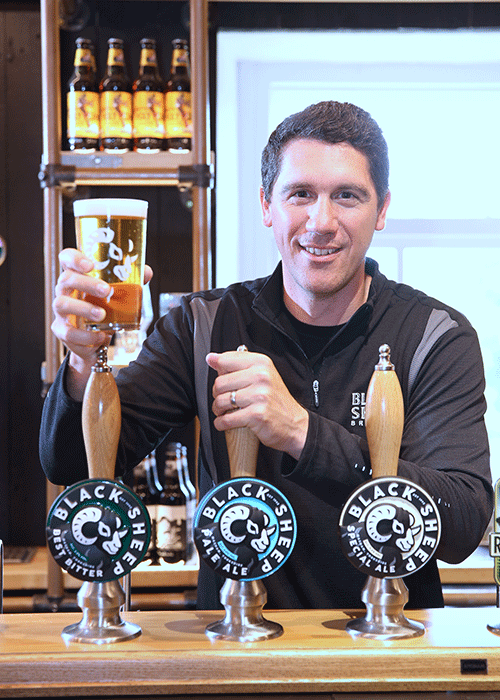 We have some exciting news coming out of HQ today as we announce the launch of a brand new, permanently available cask ale!
Here at Black Sheep, we hold a very special place in our hearts for cask beer. It's what the brewery was built on all those years ago by Paul Theakston and we continue to follow his mantra and values by putting cask at the top of our agenda. With this in mind, we have been working tirelessly over the past 12 months to develop a new brand which showcases the incredible 'Pale Ale' style of beer brewed in true Black Sheep fashion, with quality and flavour in abundance.
So, today we announce that our two flagship cask ale brands, Black Sheep Best Bitter and Black Sheep Special Ale will be joined by Black Sheep Pale Ale!
At 4.0%, our new pale ale is a cracking session pint with superb drinkability. It pours a captivating pale straw colour with a clean white head – best served through a sparkler for true northern presentation! From a flavour point of view, Black Sheep Pale Ale holds nothing back. We've loaded this new world pale with four big hitting hops from the United States which offer punchy flavours of freshly peeled citrus with a delicate touch of tropical fruit. We use Galena, Citra, Amarillo and Cascade hops to bring these fruity flavours through on the nose whilst also adding a clean, crisp bitterness which rounds off the pint beautifully. A pale malt base offers a graceful sweetness which balances against those aromatic hops. We use fresh Yorkshire Dales water from our bore hole and use our Yorkshire Square fermenting vessels to give the beer a distinct, Black Sheep finish. It's a true celebration and showcase of the modern pale ale style whilst also staying true to our British and Yorkshire brewing heritage.
Our brewers have done a top job in developing this new pale ale and after the awards flurry they've enjoyed over the past few weeks, they're dead excited to see how this is going to be received when it goes on general sale on the 1st July.
It will be showcased on our brewery bar here in Masham w.c. 24th June so for an early taster, be sure to pop in that week to give out new pale ale a try, we know you'll love it…
Black Sheep Pale Ale